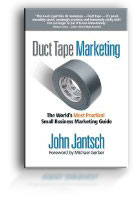 The book "Duct Tape Marketing" by John Jantsch is easily one of my favorite business marketing books. Jantsch takes tried-and-true marketing concepts and breaks them down into understandable, usable, basic methods – suitable for the average business person.
In no particular order, here are my favorite strategies:
Identify your ideal client (page 2). This is actually chapter 1 in the book, and for good reason, if you don't know who you are marketing to, you will have no focus in your message. If your business is handyman services, your ideal client is probably a 40-ish woman who either doesn't have a man around the house or has one that isn't getting household projects done.  How you relate to that market segment is completely different to say, how you relate to a single 20-ish woman.
Develop a core marketing message (page 20). This isn't the "mission statement" popularized in the 80s that became a self-aggrandizing joke. Jantsch focuses on setting one's business apart from the competition. It's more than just a slogan, too. For Hampton Roads locals, think in terms of WAVY-TV's "10 on your side" brand. If they didn't actually deliver on the message, it would be nothing more than a slogan, but the community at large knows WAVY's history of getting involved. It's what set's them apart from the other stations in the area.
Match your business identity to your message (page 39). Identity includes everything from your logo to your to your website to your outgoing voice mail message. All the components of your identity should clearly identify your company, it should appeal to your target market, and it should differentiate your firm, as well as support the most important aspect of your core message.
Writing an effective ad (page 115). While this strategy was developed with focus on small display ads, the premise and techniques are perfect for Pay-Per-Click (PPC) ads, such as on Google or Facebook. He talks about writing headlines that get read and a powerful call to action.
Become an expert (page 156). This is just part of the whole PR chapter, which is quite involved. I've seen the same concept in other books, and that is to become a source for reporters when they need to get an expert opinion on an element of a story. The PR chapter goes into detail on how to reach the right media outlets and even outlines the elements of a good press release.
These are just some of the high notes from the book, which is chock full of practical techniques. Jantsch builds on the basics of good marketing practices in a way that the average Joe-business-owner can understand and immediately put to use.