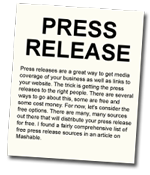 Press releases are a great way to get media coverage of your business as well as links to your website. The trick is getting the press releases to the right people. There are several ways to go about this, some are free and some cost money.
For now, let's consider the free options. There are many, many sources out there that will distribute your press release for free. I found a fairly comprehensive list of free press release sources in an article on Mashable.
Another source of contact information is to pay for access to a site such as Mondo Times. They maintain comprehensive lists of staff members, editors, etc., for most newspapers, magazines, tv stations, etc. Each record contains the name, phone number, fax number, email address, and street address. The basic membership gets you access to each individual record, but they can be painstakingly slow to build one record at a time. The costs for specialized purchased lists can add up quickly.
When choosing to promote your business with press releases, you may want to consider hiring a professional writer to help compose it. A professional can help maintain the focus of the information, as well as write in a professional format that media folks are used to reading. I work closely with a few professional writers, so please contact me if you need help with this part of your marketing campaign.