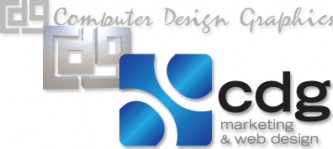 Our basic process for creating a logo is to gather information from the client, then chat about the answers on the phone. Following that, we will present you with 4-6 designs based on the information covered in the form and the conversation. Generally, the initial designs are all done in black and white. A strong logo doesn't need color and texture to work, those are added after the initial design. After the initial review, we'll take your feedback and develop the next draft, and add color. Typically, at this point we're pretty close. Generally the last draft will be fine tuning the shapes and colors. Once we're done, we'll provide you with both high resolution vector images (for print), as well as web- and video-ready images in a variety of formats.
What makes CDG different? CDG offers logo design on a "work for hire" basis. This means that the client owns the designs we provide. Some ad agencies and artists license their art, and it is their right to do so. We have intentionally chosen to transfer rights to the client. Yeah, we know we could make more money going the other route, but that's just not how we do business.
Cost. While every project is different, we've found after over 20 years worth of experience that our average logo project takes 2-3 hours, at $100 per hour. Things that affect the amount of time we spend are the information and feedback we get from the client. Logos that must undergo committee review take substantially longer.
Get started with your logo project now. Submit the form below and we'll call to chat about what you're after and discuss the process and the cost.
Or, you can reach us by phone at (757) 271-4602
Short Contact Form
We would love to hear from you! Please fill out this form and we will get in touch with you shortly.