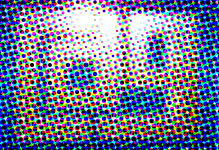 "Do you want that to bleed?" she asked.
[Deer in headlights look]
"Um… will it hurt?"
<smirk>
Ah, fond memories of learning the jargon of printers. Bleeding, in this case refers to the ink going past the cut edge of the paper, so you have edge-to-edge ink coverage.
Whether you have a designer that handles your art and printing projects, or you work directly with printers yourself, there are some common printing terms you should be familiar with.
| Term | Definition |
| --- | --- |
| 4 color | This is full color printing using 4 colors (cyan, magenta, yellow, black – CMYK) to produce a vast spectrum of colors. |
| 4:4, spoken as 4 over 4 | Full color printing on both sides of the paper |
| Bleed | Printing that extends to the edge of a sheet or page after trimming. This is created by printing past the trim line, then cutting it off. Bleeds range from 1/16″ to 1/8″, depending on the printer's requirements |
| Camera Ready Art | A digital file that is ready for the printer to process digitally without any manipulation. This term is from the pre-digital era, where the printer had to shoot a picture of the art using a special camera in order to make a printing plate from the negative. |
| FPO | For position only. This refers to sample images or dummy text used during a mock up to give a basic idea of how the finished design will look. |
| Color Gamut | The entire range of hues possible to reproduce using a specific device, such as a computer screen, or system, such as four-color process printing. The gamuts for printing and video are vastly different, which is why what you see on your monitor can be so different from what appears on paper. |
| Rich Black | Black created using a mixture of all 4 colors of ink for a denser coating and a richer color (as opposed to just black ink). |
| DPI (dots per inch) | A measure of resolution in relation to printers, scanners, and monitors. Normal high-quality printing requires a minimum of 300 dpi to avoid pixilation. Video and computer images are often referred to by PPI (pixels per inch), which relates to how a monitor represents an image. The higher resolution the monitor, the smaller the image! |
| PDF | Portable Document Format. A standard for representing electronic documents, allowing them to be transmitted and reproduced accurately. |
| PMS | This is an abbreviation for Pantone Matching System. Pantone created a library of specific ink colors which can be used instead of or in addition to 4-color printing. If used in addition to 4-color printing, it's called a fifth color. PMS colors can be APPROXIMATED by 4-color printing, and generally will be close, but not exact. |
| Crop Marks | Marks that determine where the paper will be cut after printing |
| Safe Zone | An area that will not be affected by slight shifts in the paper as it's printed and cut. Images and text outside the safe zone run the risk of being trimmed. |
| Thermography | Method of printing using colorless resin powder that takes on the color of underlying ink. Also called raised printing (Similar to embossing powder used by rubber stampers.) |
| UV Coating | Liquid applied to a printed sheet, then bonded and cured with ultraviolet light. Glossy! |
| Aqueous Coating | Water-based coating applied to protect and enhance the printing underneath. It provides a high-gloss surface that deters dirt and fingerprints. Aqueous coating improves the durability of postcards as they go through the mail, and protects business cards as they ride around in people's pockets. |
| 80# Gloss Text | Standard glossy paper stock, about as thick as a light magazine cover. The shiny finish provides an excellent opaque base for rich process color printing. This is our most popular stock for: Brochures, Catalog Inserts, Flyers, Posters, etc. |
| 100# Gloss Text | Similar to the 80# gloss text, but 25% thicker and heavier, for a piece that feels more substantial. Standard Uses: Brochures, Information Sheets, Self-mailers, etc. |
| 14pt C2S Stock16 pt CS2 Stock | The pt size refers to the thickness of the paper, as represented in mils; thus 12 pt stock is .012 inches thick. C2S = Coated 2 sides, meaning both sides of the paper are coated with some sort of finish. |
| Matte | Non-gloss finish. |