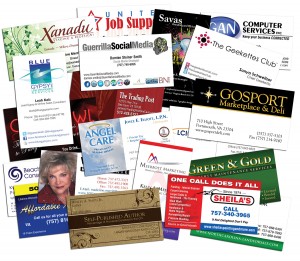 We're happy that so many of our customers refer us to their friends and colleagues for printing and web site work. So happy, in fact, that we're starting a new program: for every 5 new printing or web design customers that you refer to us, we will give you 1,000 FREE premium business cards.
These premium business cards are full-color, 1-sided, and printed on your choice of 14pt or 16pt stock, with your choice of a glossy or matte finish – a $48 value!
This isn't a special promotion; it's a new policy. We want to make sure our customers know we appreciate the referrals. So keep 'em coming!
While we get organized, if you do send us business, please let us know (or have the customer tell us you referred them). We're working on a way to track the referrals, but didn't want to postpone the announcement while we worked out the details.
Here's the fine print: Free cards do not include the card design; we can use your existing art or we can help you with that (regular design rates apply). Business cards take approximately 1 week from order to delivery. A customer is defined as "someone who pays for goods or services".